#SanctuarySelfies: Using social media to engage the public in your conservation goals
Many people have an interest in protecting the oceans yet assert minimal personal engagement in ocean conservation issues.

By using social media there is potential to engage the public, foster personal connections with marine protected areas, and change outlooks and behaviors toward ocean conservation.

West Coast national marine sanctuaries launched the "Get Into Your Sanctuary Day" campaign in which national marine sanctuary representatives partook in a day of recreation and sustainable tourism activities and shared their experience on Facebook and Twitter. Additionally, the local community, tourism vendors, and travelers contributed to the event by posting their sanctuary "connections." Following the campaign an evaluation report quantified

public engagement on the social media outlets of national marine sanctuaries.

On the "Get Into Your Sanctuary Day" there was a combined potential reach of 300,337 accounts on Facebook and Twitter and a total engagement of 763 interactions. This response was substantially higher (approximately 80%) than the average daily reach and engagement on these social media accounts.

The methodology employed for this campaign and lessons learned, may be incorporated into the promotion of similar events to engage the public and change people's attitudes toward ocean conservation.



contributions
This social media campaign was done in collaboration with the West Coast Regional Office of National Marine Sanctuaries, the Council of Ocean Affairs, Science, and Technology (COAST), and CSUMB.
The poster was presented at the Western Society of Naturalist 2014 Annual Meeting.
Powered by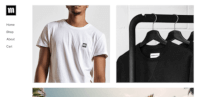 Create your own unique website with customizable templates.